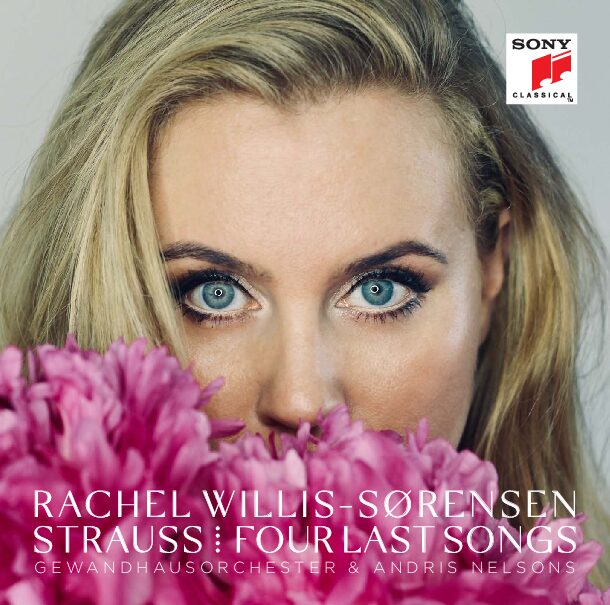 Strauss: Four Last Songs
Presenting works of Richard Strauss's later years, Willis-Sørensen's latest release pairs the composer's sublime Vier letzte Lieder (Four Last Songs) with the closing scene of his final opera, Capriccio. Renowned conductor Andris Nelsons leads the Gewandhausorchester and German bass Sebastian Pilgrim joins Willis-Sørensen for the Capriccio scene.
The first single "Frühling," the opening track of the Four Last Songs is out today – Listen here.  Setting poet Hermann Hesse's rapturous vision of spring, this matchlessly soaring music will provide listeners with an ideal introduction to Willis-Sørensen's undisputable affinity for Strauss. 
The album follows up on the soprano's Sony Classical debut, an aria recital entitled "Rachel," released last year to unanimous international praise. Germany's Das Opernglas noted that "Willis-Sørensen sings marvelously with her beautifully shimmering, silvery, well-rounded soprano voice, whose slight vibrato enhances the emotions expressed." While Gramophone Magazine recommended the album as "a rewarding and intelligent debut from a very fine singer". French classical magazine L'Opéra praised her as "An uncommon talent, able to rival the best examples of the past".
Coinciding with the album release, Willis-Sørensen's will mark the latest addition to her gallery of Strauss heroines, with the role debut of Arabella at the Deutsche Oper Berlin in Spring. In Willis-Sørensen's performances, vocal radiance is matched by abundant musicality and impeccable style. Her artistry has illuminated repertoire extending from Mozart and Wagner to Verdi, Puccini, Dvořák, and Britten. 
Willis-Sørensen considers Strauss ideal for "a lyric soprano voice that maybe leans a little heavier," as hers does. An artist whose textual communication in German is impressively detailed and idiomatic, Willis-Sørensen comments that "a lot of Strauss is also conversational, so my grasp of the German language makes it particularly enjoyable for me."
The new album reveals Willis-Sørensen's mastery of some of the greatest vocal and interpretive challenges in Strauss. A luminous, long-lined lyricism characterizes the Four Last Songs, which together comprise what Willis-Sørensen views as "a parable for life. Musically speaking, you have the expectation of one particular harmonic resolution, and then it goes in a different direction and it's rendered more beautiful because it surprises you. Life is absolutely like that!" 
A notable contrast occurs with the Capriccio scene, which Willis-Sørensen describes as "whipped cream. It's cheeky and has a lightness, a bit of a wink." Here the opera's gracious, ultra-feminine heroine, Countess Madeleine, engages in what amounts to a conversation with herself, struggling to determine not simply how to end the new opera written by her two suitors – a composer and a poet – but also which suitor to choose. 
Willis-Sørensen is delighted that this album renews her artistic partnership with Nelsons, who conducted the soprano's first Marschallin in the Royal Opera House's 2016 production of Der Rosenkavalier. Willis-Sørensen's gratitude in recording the Strauss album extends also to the players of the Gewandhausorchester, an ensemble that has long sustained a tradition of magnificently authoritative Strauss performances.
"Strauss: Four Last Songs" will be released internationally on March 10 by Sony Classical on CD and digital formats. 
Four Last Songs / Vier letzte Lieder TrV 296 
Four Last Songs 
No. 1: Frühling 

No. 2: September 

No. 3: Beim Schlafengehen 

No. 4: Im Abendrot 
Final Scene from Capriccio
Mondscheinmusik. Andante con moto 

"Wo ist mein Bruder?"

(countess, major-domo)

 

"Kein Andres, das mir so im Herzen loht"

(countess)

 

"Ihre Liebe schlägt mir entgegen"

(countess)

 

"Du Spiegelbild der verliebten Madeleine"

(countess)

 
Rachel Willis-Sørensen (soprano)
Sebastian Pilgrim (baritone)
Gewandhausorchester Leipzig 
Andris Nelsons (conductor)
Album Info
Manufacture: Sony Music Classical
Original Release Date: 2023
Label: Sony Music Classical